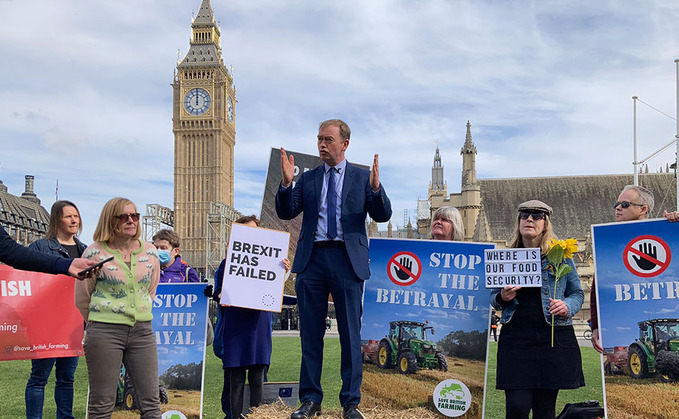 The Governments Environmental Land Management scheme (ELMs) has been branded a deliberate assault on farming by Liberal Democrat MP Tim Farron.
Speaking ahead of a Save British Food rally in central London on Tuesday (March 15), the Liberal Democrat spokesman for Food and Rural Affairs hit out at aspects of ELMs, describing it as an outrage that would do limited good for the environment while causing enormous damage to our ability to feed ourselves.
Mr Farron, the MP for Westmorland and Lonsdale, said: In principle an ELMs is a good thing. I personally did not think we should leave the EU but having said that, the Common Agricultural Policy was a weak spot and we could have spent that money far better.
"The Government had the opportunity to do just that and it is a tragedy they have not. It is a silver lining that is turning grey.
It has given a clear indication through ELMs that landlords will get a big financial incentive to evict their tenants and to turn their homes into second houses and holiday lets. There will be tragic consequences for farmers, their families and rural communities. That is a deliberate decision the Government has made.
Mr Farron said he believed ELMs would also fall short in terms of environmental impact, insisting the UKs commitment to combat climate change rested with those that already care for the land.
The greenest thing this Government could do is to keep farmers farming," he added.
"The best environmental policies on the planet are of no use whatsoever if you have not got any pairs of hands to deliver them."
Mr Farron addressed those gathered at theSave British Foodevent for the launch of its Food Plan for Britain, which highlights the perilous future farmers are facing owing to the combination of Covid-19, Brexit, the Ukrainian crisis and the free trade agreements which it said threaten British food security.
Mr Farron, whose Private Members Bill to ensure there is greater scrutiny of any further free trade agreements has its second hearing in the House of Commons on Friday (March 18), said: The bottom line is that poorer standards are cheaper. If you give countries with lower standards a competitive advantage as we have done with the trade deals it will damage not only animal welfare and the environment it will also damage our farmers.
This is a really crucial moment. We have never needed farmers more and no government of any colour has threatened the future of British farming more than this one.