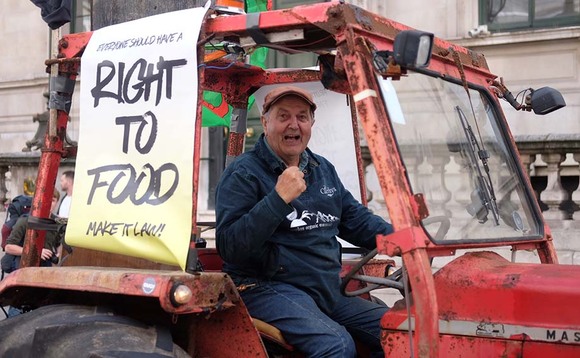 An intergenerational mix of farmers, producers, rural workers and environmentalists took to the streets of London at the weekend as part of a Landworkers Alliance march aimed at securing Government support for food and farming.
Two tractors - one of which had been driven from Pembrokeshire by 74-year-old organic farmer Gerald Miles - led the event that saw around 500 people march through Englands capital.
Members from Greenpeace Southwest, Right to Roam Campaign, NFFN, Sustain, Right to Food London, Feedback UK, Farms not Factories all came together for the protest which called on Government to stop backing corporations over conservation, and support farmers of all sizes who grow healthy food that protects the environment.
Jyoti Fernandes, the Landworkers Alliance policy and campaigns coordinator and co-founder, was one of the lead organisers of the march. She said: "We are marching for a properly funded Environmental Land Management Scheme and new entrants scheme to create good jobs and truly sustainable growth for both rural and urban communities.
We are furious that while we are pushing ahead with a just transition in our food system, the Government is pushing ahead with trade agreements that support corporations yet undermine our environmental and animal welfare standards instead of opening up public procurement opportunities for farmers to sell healthy, local food to schools and hospitals.
We will no longer stand for our public money being handed to systems which destroy our planet when we are at the most important moment in history for a just transition to a fair food and farming system fit for future generations."
Mr Miles, who had taken four days to make the trip from West Wales in his 54-year-old tractor to London, said: The government needs to get its act in gear and look after this country instead of looking after the rich and really invest in the countryside and farmers that produce food, which is the backbone of the country.
If they want to offer incentives to farmers to get greener to combat the climate crisis they need to keep ELMs (environmental land management schemes) going and give grants to young farmers and young growers to start. Its simple and common sense.
Made up of more than 2,200 farmers, growers, foresters and land-based workers, the Landworkers Alliance aims to improve the livelihoods of our members and create a better food and land-use system for everyone.
It has a list of demands that includes: the passing of legislation to allow everyone access to healthy, affordable and culturally-appropriate food; to help farmers transition into more sustainable farming practices and betters livelihoods for farmers through better regulated and fairer supply chains and markets; and that international trade agreements prioritise the welfare of farmers, animals, eaters and the environment in the UK and abroad.