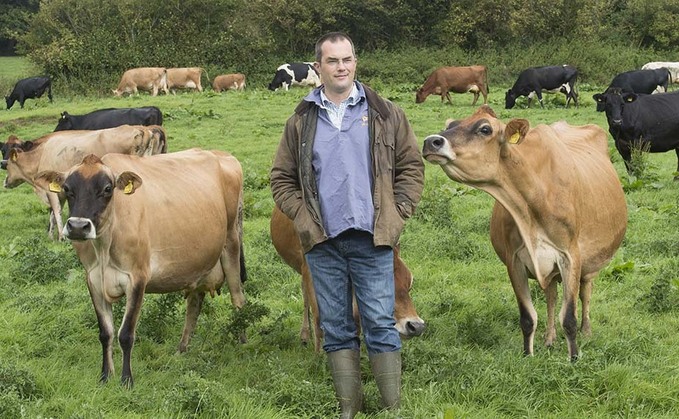 After a truly fantastic September that felt more like May, the seasons have definitely changed here in Dorset.
We managed to harvest our maize with good yields and no issues and we drilled the grass reseeds in good time. Then the weather turned and we had 12 per cent of our year's rainfall in less than three days.
We housed the cows full-time for a week during the Dorset monsoon, but thankfully they are now back out grazing by day and housed at night. I was not looking forward to such a long winter if the weather had stayed as wet and cold as it was in the first few days of October.
However, it did speed us on to get the housing facilities and everything ready for winter quickly. All youngstock are still at grass and the grazing conditions are still good, with plenty of grass. Hopefully most of the youngstock can stay out until nearly Christmas and the cows can still graze for another month.
Fortunately, the forage larder is full this year with plenty of clamp and baled silage. Although we had to feed for a month in summer due to drought and we are carrying more stock, we still seem to be okay on the forage front, fingers crossed.
We are about seven weeks away before we dry the whole herd off and start preparing for calving in February.
The constituents always start to rise at this time of year, so our milk solids and price increase helps compensate for the slow drop in milk yield.
We will carry on milking the herd twice a day, but we will go to once-a-day milking 10 days before we dry them off. Let's hope by the time we get to our break from milking we are able to enjoy a few more normal pre-Covid-19 outings and visits. The pandemic has brought home how lucky we are to be living remotely and doing the job we do.
This will be my last time writing this column and I can't quite believe how quickly the three years have flown by.
I have really enjoyed writing it and it has surprised me how many people have read the column and recognised me at school picks up, shows and meetings.
It has been great for family and far flung friends at home in Yorkshire to keep up with what the southern Stanleys are doing.
As I said in my first article, it was never my plan to live in Dorset, but it was always my dream to farm on my own. Thankfully, I have been able to fulfil my aims due to Dorset Council maintaining, promoting and investing in its county farm estate for the future.
County farms still have a massive role to play in getting young entrants into farming as they have done for the last 100 years. They are needed more than ever.
I would like to wish everyone well for the future.
New writer:
As this is Jon's last article, replacing him will be Mike Harris, also from Dorset, who breeds pedigree Herefords.