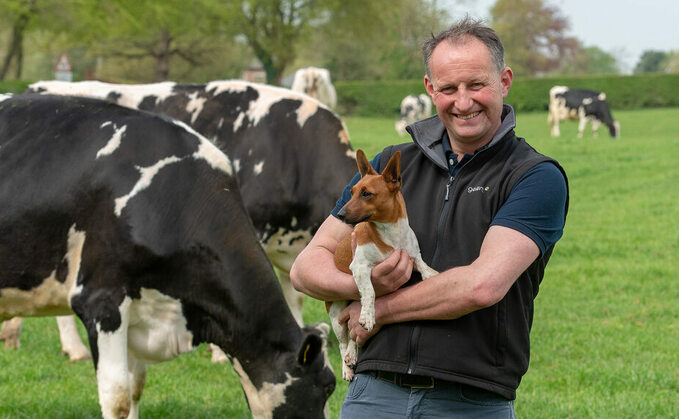 We have been keeping busy by topping, striving to mix and match cutting and grazing, hay making, preparing for silage and, as ever, fencing.
Fencing can seem an endless task and I wonder if one day we'll have fenced far enough to meet Richard Branson in space.
We are now starting to build the new parlour. The building work we are undertaking should allow us the opportunity to create some worthwhile management groups, which ought to allow for targeted feeding of freshly calved cows and to challenge the pregnant cows with groups large enough to justify the additional effort.
Mid-July and the recent rains have arrived just in time. A recent family trip out to the seaside drove us past some spectacular crops of cereals and, nationally, crop reports are impressive with talk of potentially the second largest wheat crop due to be harvested at over 15 million tonnes.
There are good reports for EU yields too, with talk of recovery from challenging weather earlier in the year. For our family business, forward buying would not be immediately attractive with such potentially positive news on the horizon.
I read that protein sources in the EU are having a change with the imminent reintroduction of processed animal protein between pigs and poultry, allowable from August on the grounds the EU was concerned their farmers were being undercut by imported produce from other geographies. I believe the UK has not yet adopted this change.
At the same time our own Government does not seem to be defending the UK's good agricultural practice in the face of looming trade deals.
Antimicrobial resistance in the UK, a topic which was of such concern to human health that it has taken something as enormous as Covid-19 to overshadow it, is something the UK farmers have made significant progress with.
UK farmers are industry bellwethers for reducing antibiotic usage. Yet I believe the Government is actively pursuing deals which would potentially expose the British public to treatments now banned in the UK in their quest for cheap food.
Liz Truss, Secretary of State for International Trade, believes that UK farmers should stick to the highest standards and simply export any excess produce. Exporting high safety, high welfare UK food while importing food which can fall significantly short of the UK standards sits badly with me.
It suggests that if you can afford it you can buy UK produced food but if you cannot, then there is some less safely produced, lower welfare food you can put on your table instead.
In 2021 is it morally right to export our responsibility for animal welfare, environmental sustainability and food safety to areas which we know to be behind UK standards?
The household at 10 Downing Street, while strongly aligned with some pressure groups, appears to be highly selective over which species animal welfare applies to and is happy to allow cheap imports of food.