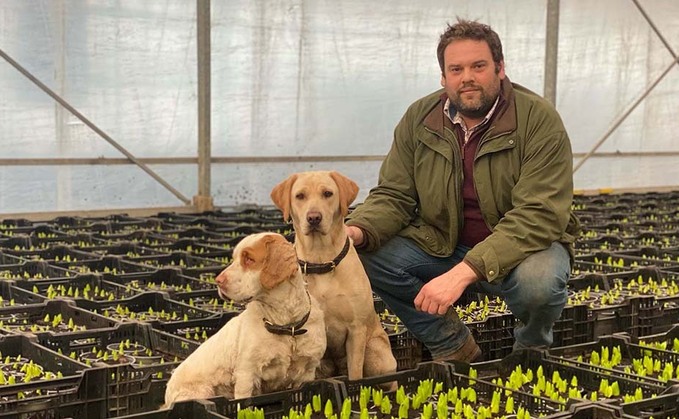 January has been a testing month so far; with heavy rainfall, sharp frosts and even the odd attempt at snow.
Winter cultivations have taken a back seat at present, however the horticultural side of the farm is very much 'business as usual' and we will shortly be preparing for the surge caused by all the romance of Valentine's Day.
When weather permits and the land dries, we will be busy lifting sugar beet, drilling spring wheat and ploughing ready for 2021 season.
Not all is lost due to the damp and bitter weather though, as we have been busy maintaining culverts, machinery, glasshouses, and sheds in our spare time.
Alongside modifications to our existing kit which is keeping us busy in the workshop on rainy days, I have a project in the pipeline with a reputable machinery manufacturer which will hopefully be the start of a new direction for us and our flower growing capabilities. All will be revealed in good time.
In the world of flower growing, 'cut flowers' refer to the flowers that end up in bouquets. At this time of year, the only cut flowers we grow are hyacinths. Despite the pandemic, sales of potted flowers to the supermarkets have remained relatively consistent.
My father has always told me that even in bad times people will continue to buy relatively cheap, cheery flowers for their homes and loved ones, and thus far it has proved to be true. I for one love to have a selection of the potted plants we grow at home to brighten the place up.
Hyacinths and tete-a-tete (mini daffodils) make up the bulk of the potted plants we grow and pack, however we also grow iris and muscari. All of which will return to flower next year if you plant them in your garden once they are past their best in your home.
Like for many, potato sales on-farm are slow and depressing. Fortunately for me, all our contracts are being honoured at present and the tonnes are slowly creeping out of the yard.
Now the Covid-19 vaccine is being administered, there is a small light at the end of the tunnel that we will soon all be out living life again (with plenty of trips to the great British chip shops to help get the British potato trade back up and on its feet).
The recent flooding has certainly shone a light on the debate between regenerative agriculture enthusiasts and environmentalists.
I for one would like to see the end of the 'blame game' and a larger effort from all in our industry to promote British agriculture for what it is - one of the most sustainable farming systems in the world. I hope to see the likes of the NFU taking larger steps towards this in the future.