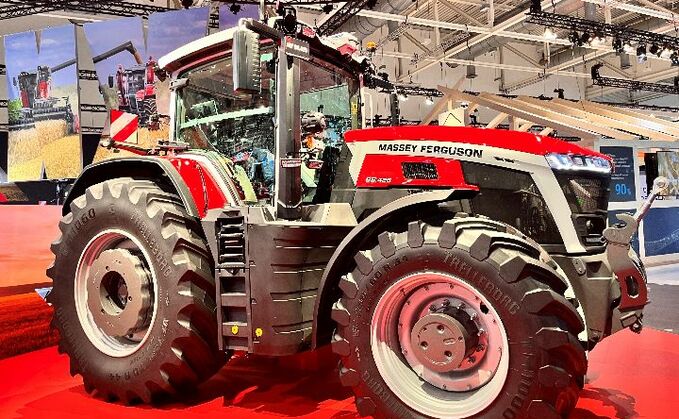 Following the launch of the smaller 8S range in 2020, an obvious gap had been left to replace the brand's flagship machine which was occupied by the increasingly dated 8700S. Shown to worldwide press and public at Agritechnica, the new 9S lineup uses the same 8.4-litre, six cylinder AgcoPower engine and CVT transmission as sister brand Valtra's S series which was launched in mid-September. Unlike the Valtra, the 9S will be built in Agco's Beauvais factory in northern France and uses the same striking cab frame as the smaller 8S.
Six models will be offered with maximum power outputs from 315 to 425hp, with the lower five receiving a 30hp and 150Nm boost of power and torque. Engine and emission technology has been refined with the removal of the previous twin-turbo system with exhaust gas recirculation (EGR) and replaced with a single variable-geometry turbo. This change reduces the engine combustion temperature and gives a claimed reduction in fuel consumption when delivering equivalent power outputs. The increased cost of AdBlue consumption through this approach is mitigated through overall fuel savings, says the manufacturer.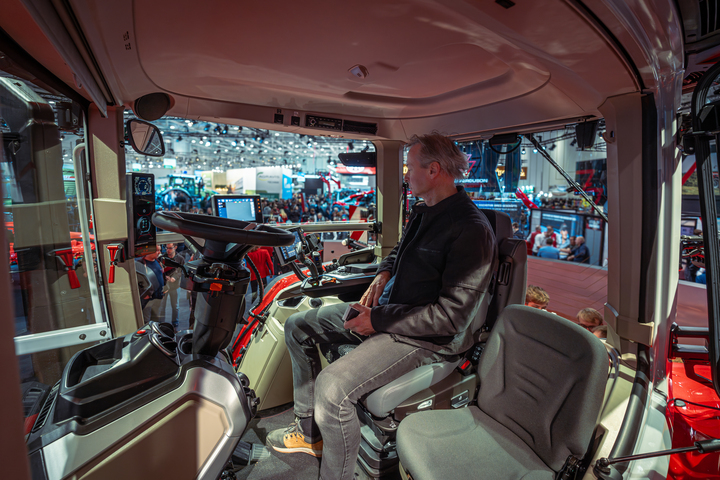 Sharing the same cab frame as the smaller 8S, the new model includes the same 180mm gap between the engine and windscreen which offers improved visibility and radiant heat reduction. This cab design has been well-received by 8S users, with Massey claiming to offer the best-in-class visibility and a noise level under load of 69dBA.
Highlighting the increasingly mixed workload of in-field and on-road tasks required of larger higher horsepower machines, the 9S will be offered with a central tyre inflation system as a factory-fit option.
Operated through the Datatronic 5 controller, the system can change the pressure from 0.8 bar to 1.6 bar of VF710/75 R42 rear and VF620/72 R30 front tyres in four minutes. This system is claimed to reduce fuel consumption on the road by up to 15 per cent, and increase the overall machine footprint by 150 per cent when fully deflated.
A maximum ballasted gross vehicle weight of 18 tonnes is possible using a combination of inner and outer wheel weights and front weights carried on the larger, five-tonne lift front linkage. The maximum rear linkage lift is a claimed 12 tonnes for the full travel range, with an optional top link option to increase this to 20 tonnes within a reduced travel distance.
A new dual hydraulic pump provides 340 litres/min of oil flow at 200 bar with machines being offered with up to nine individual spool valves.
Visitors to LAMMA2024 will be able to see the 9S for the first time in the UK, as the manufacturer returned to the event held at the NEC on January 17- 18th for the first time since 2019.