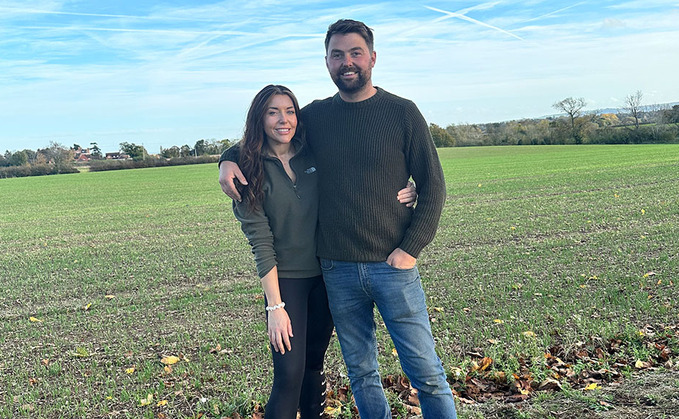 I think May has to be the best month of the year. It is a month that holds a lot of promise: we are no longer fighting to get things done before dark; it is (usually) not too wet, not too dry; grass is aplenty; and crops generally look well. It is too early to tell if it is going to be a bumper season or a wash out, so it is a month we can spend in ignorant bliss.
While some of this still rings true this year, I think we can all agree the start to this season has been a challenging one. For us, we had problems early on with salad crops yellowing, and it went from being too wet to get on with anything to panic stations with irrigators going flat out.
We are starting to get through the difficulties now and daily harvest of both salad leaves and herbs is in full swing as we move onto crops that were drilled in better conditions and were not hammered by relentless rain.
In the third week of May, ground finally dried out enough for our last field of peas to go in the ground, but we are now battling with pigeons and crows. Having never grown peas before, I am trying to decide if this is a worry worth having - but I guess only time will tell.
The first year of taking on a new farm is full of seeing what problems you are taking on, and while the sheep and cattle are delighting in the massive amount of grass about at the moment, some of the arable fields are littered with grassweeds.
On the plus side, and back to the delights of early summer, it is hard to feel too hard done by when the hawthorn blossom looks so spectacular this year and the farm is so full of life.
At the end of May, pumpkins went into the ground with irrigators primed at the ready to get them off to a good start. They are our favourite crop to grow and bring a nice change to the daily routine on the farm. It will be our third year running a 'pick your own' patch, and having so many visitors to the farm is something we have both really enjoyed.
This month, we have also found ourselves eating an undue amount of pork after taking our first pigs to the butcher. They were marketed as zero waste pigs because they were fed primarily from rejected produce from neighbouring farms, and this got me wondering how eating meat like this can be classed as 'unsustainable' (as some would like us to believe), when all those tonnes of perfectly good fruit and veg would otherwise just go to waste?