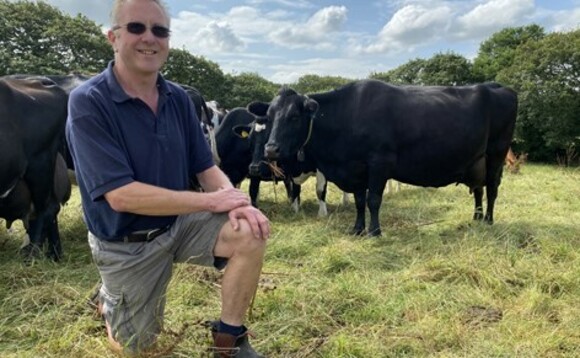 Using a herd monitoring system to analyse heat and health signals enables Cornish dairy farmer, Andrew Brewer, to keep a closer eye on his herd's tight calving pattern, with a linked drafting gate reducing the manpower needing during each milking.
Andrew Brewer milks 500 Jersey crossbred cows on a simple grass-based system at Ennis Barton near St Columb in Cornwall. With all calves born outside in a nine-week window from the beginning of August, and cows grazing 365 days of the year - even if only for a few hours each day during the winter - his key focus is on maintaining a tight calving pattern by ensuring all cows and heifers are served at the optimum timing.
To make sure cows conceive within his preferred breeding window, Andrew has recently installed a fertility and rumination monitoring system which not only highlights when individual animals are in heat, but also draws attention to any potential underlying health issues.
"We installed 500 SenseHub collars in April this year, predominantly to enable us to use an Allflex sorting gate to automatically segregate cows for AI work and veterinary inspection or to divert them to either the cubicle housing or pasture," Andrew explains.
"Moving from our old, manually operated gate to one which is controlled automatically means we need one less person in the parlour to spot and draft cows, with the system also enabling us to ensure each animal is inseminated at the optimum time."
The tight calving pattern at Ennis Barton means Andrew and his team of five staff calve more than 200 cows in the first two weeks of August. "When we're that busy we can't afford to be dealing with sick or injured cows, so it's good to be able to rely on SenseHub to spot problems such as sub-clinical mastitis, ketosis and lameness," Andrew describes. "Spotting problems before any obvious symptoms have developed means we can intervene sooner and get the affected animal back to full health in less time with a reduced impact on fertility scores and overall milk productivity."
All calves are born outside, with a wire fence moved daily to ensure each calf is born on fresh, clean ground. "It's a simple system which works well for us as it enables calves to be born in the fresh air, away from potential sources of infection," Andrew describes.
"We run the calving group through the parlour on a daily basis so that any cows that SenseHub picks up as having a potential health issue can be automatically segregated and inspected. We'll also make a note on the SenseHub app if we spot a lame cow as she's walking to the parlour so that she too can be segregated and treated."
The SenseHub system has taken a lot of pressure off Andrew and his staff as they now know exactly when each animal is in heat and ready to be inseminated which means they can organise and prioritise workloads more efficiently.
"It's a much less time-consuming way of working compared to our old system of using tail paint to identify when cows were bulling," Andrew continues. "We've all got the SenseHub app installed on our phones which means we can quickly look at each cow's individual heat graphs to decide when she should be served and to check that she hasn't encountered any problems post-conception. In time that'll help us to reduce the amount of purchased semen we're using because we'll be targeting heats more accurately which will also enable us to improve the herd's genetic gains more efficiently."
Andrew admits that he still likes working with bulls because "they can outperform AI in terms of getting trickier cows back into calf", but instead of using AI for just the first three weeks of the nine-week breeding window, he has now switched to six weeks of AI followed by three weeks of natural services. "Fertility monitoring systems have improved a lot in recent years which means I can trust SenseHub to accurately spot heats and manage the herd's mating timings," he explains.
"The SenseHub system has also been of benefit during this year's calving period when it flagged up a number of potential cases of milk fever which we were able to react to before they developed into more serious problems. And, as an added bonus, I was able to get more sleep throughout the nine-week calving window as I didn't have to get up as early or during the night to check cows I thought were due to calve. Instead, I relied on the SenseHub app to keep me updated and only needed to go out to the more difficult calvings."
Andrew Brewer manages a herd of 500 Jersey crossbreeds at St Columb in Cornwall.
All calves are born outside on a mature grass ley which ensures dry cows don't put on excessive weight in the final few weeks of pregnancy.
500 SenseHub collars were installed in the spring to operate an Allflex sorting gate and to assist with heat detection and health monitoring.
The SenseHub collars and app enable Andrew and his team to spot problems at, or in the run up to calving, and to take the necessary steps to prevent any major cow health problems.
The herd grazes 365-days per year and averages 6,000 litres per lactation at 5% butterfat and 4% protein.
The Allflex sorting gate enables cows to be automatically segregated for AI work, veterinary inspection or diversion to the farm's cubicle housing or pastures.
A solar-powered SenseHub antenna, mounted in a flatbed trailer, enables data to be collected while cows are grazing away from the farm's buildings.